According to the World Health Organization, billions of adults are overweight and millions are dangerously obese. 
If you are overweight and searching for an effective method of weight loss, a gastric sleeve might be the right choice.
ALO Bariatrics makes advanced gastric sleeve surgery affordable at our safe, resort-like Tijuana, Mexico location. 
Start Your Weight Loss Journey: Contact ALO Bariatrics Today
If you are considering weight loss surgery and are looking for an affordable, safe, and proven option, contact ALO Bariatrics. As one of the highest-rated bariatric surgery centers south of the border, we are the premier destination for patients considering medical tourism in Mexico. Our surgeons, Dr. Alejandro Lopez and Dr. Salvador Ramirez, are affiliated with prestigious organizations, including:
The International Federation for the Surgery of Obesity and Metabolic Disorders (IFSO)
The American Society for Metabolic and Bariatric Surgery (ASMBS)
The American Association for Accreditation of Ambulatory Surgery Facilities (AAAASF)
The Federal Commission for Protection against Sanitary Risk (COFEPRIS)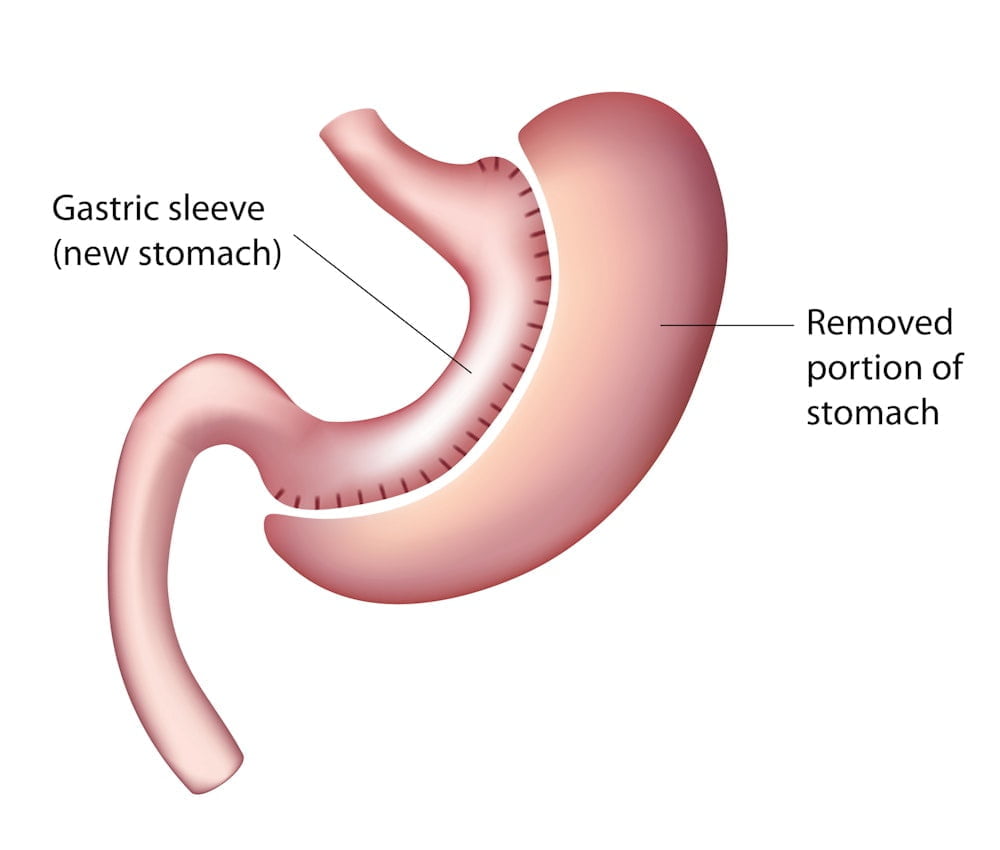 What Is Gastric Sleeve Surgery?
Gastric sleeve surgery (also known as sleeve gastrectomy or vertical sleeve gastrectomy) is a restrictive bariatric surgery, meaning it spurs weight loss by reducing the amount of food you can eat before feeling full. During the procedure, our surgeons will remove about 80 percent of the stomach. After the surgery, the stomach will be about the size of a banana and resemble a sleeve shape.
Why Choose Gastric Sleeve Surgery?
Gastric sleeve surgery is one of the safest weight loss surgeries, and our surgeons use advanced screening and surgical tools to ensure a low risk of gastric sleeve complications. Our bariatric surgeons perform the procedure laparoscopically, so there is no need for large, open incisions. This can reduce the risk of bleeding, infection, and other complications.
Gastric sleeve patients can potentially lose more than 50 percent of their excess weight within a year of their surgery. In addition to helping you achieve dramatic long-term weight loss, gastric sleeve surgery can help you control dangerous comorbidities including sleep apnea, diabetes, and hypertension.
By helping you lose weight, gastric sleeve surgery can also help you enjoy renewed energy and enthusiasm for life. Without excess weight holding you back, you can enjoy physical activities, live a more active life, and feel more confident in everything you do.
Our 5-Star Results Are Better Than Imagined

David Alexander
2022
My results are more than I imagined was possible. I'm down 155 pounds in 6 months. I went to an annual screening that my employer requires and the numbers were the best in 30 years. The staff was professional and efficient 6 months ago as well. My biggest regret is that I waited so long to get the surgery!

Jose Martin del Campo
2022
Had surgery with the ALO team 8 months ago and It was an incredible experience. They were very professional, and they were very patient with me. As a physician , I can say the quality of care that I saw in this hospital was on par with american facilities. Would recommend to anyone in a heartbeat
Gastric Sleeve Testimonial
"BETTER THAN I COULD'VE IMAGINED"
Bonnie wanted gastric sleeve surgery because her excess weight was preventing her from living life to the fullest. She had a great experience with ALO Bariatrics in Tijuana. She felt safe the entire time, and she appreciated the kindness and consideration of the ALO Bariatric team.
Who Qualifies for a Gastric Sleeve?
TIPS FOR LONG-TERM WEIGHT LOSS
Most candidates for weight loss surgery are between the ages of 18 and 65.
To qualify for a gastric sleeve, you should have a BMI (body mass index) of 35 or greater or a BMI of 30 or greater plus obesity-related diseases such as diabetes, sleep apnea, or hypertension.
Previous Attempts to Lose Weight
Weight loss surgery is not an easy fix and should only be considered after other less invasive methods of weight loss such as diet and exercise have been unsuccessful. Before considering bariatric surgery, you should try improving your diet through healthier habits. If lifestyle changes do not help you lose weight, you may be a good candidate for weight loss surgery.
Gastric sleeve surgery is not recommended for patients with severe acid reflux because the new shape and size of the stomach can exacerbate the symptoms of this condition. If you suffer from severe acid reflux, you may be a better candidate for a different type of weight loss surgery such as gastric bypass.
If the patient has an esophageal motility disorder or another esophageal disease such as Barrett's esophagus, gastric sleeve is not recommended as the symptoms can worsen following treatment. For these patients, the best option would be a gastric bypass.
To find out if you are a good candidate for the gastric sleeve procedure, reach out to our team today. When you contact our bilingual care coordinators, they will send you an online health questionnaire to complete. After you submit your health information, our expert bariatric surgeons will review your responses to determine your candidacy for vertical sleeve gastrectomy.
This process is totally free, and if you do qualify, we can begin to arrange your surgery at any of our state-of-the-art Tijuana facilities. You can request your health questionnaire by giving us a call.
"I can honestly say I had a great experience."

Javana Drogaris
2022
I can honestly say I had a great experience, from getting picked up until the day I left. Eduardo our driver was very nice and friendly I'm very grateful. The hotel we stayed at Marriott was nice and clean and the staff were helpful, courteous and friendly. The day of the surgery got to the hospital was very clean and nice... Thank you so much for your hospitality and for taking care of us the way y'all did God bless!

Christina Hurtgen
2022
Very thorough communication, transportation from and to airport was provided. I went to PV for surgery, hotel was convenient to everything you could need. Dr was top notch, as well as the whole staff I came into contact with. I'm 3 years post op and still have a line of communication when needed. Still responsive. The hospital is so clean I would eat off the floor. I couldn't recommend this more highly than I do.
Vertical sleeve gastrectomy empowered Carlos to achieve healthy, sustainable weight loss. Transformations like this are possible. The team at ALO Bariatrics is here to help.
Come to Tijuana for Gastric Sleeve Surgery
YOUR DESTINATION FOR AFFORDABLE HIGH-QUALITY BARIATRIC CARE
Dr. Lopez and his associates perform gastric sleeve surgery at a fully equipped hospital in Tijuana, Mexico. ALO Bariatrics is just 15 minutes from the San Diego International Airport. Our 5-star service begins with a professional chauffeur picking you up from the airport and driving you across the border. Some of the amenities you can enjoy include: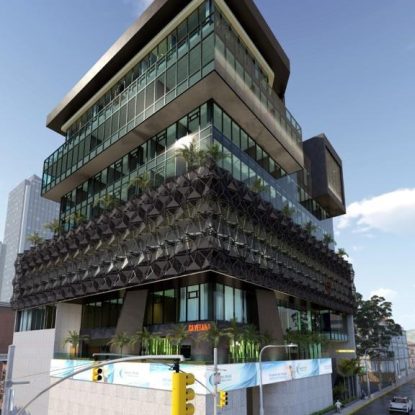 Our hospital serves bariatric surgery patients and those who need reconstructive surgery following weight loss. All of our operating rooms are designed for our patients, allowing us to deliver the most effective care. Our compassionate staff is specifically trained to make your weight loss experience as comfortable as possible.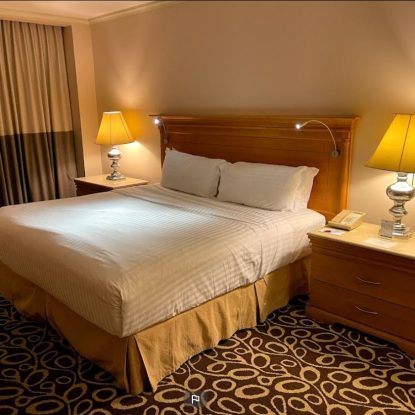 Our patients stay in the luxurious Tijuana Marriott Hotel. The rooms are famously comfortable and provide picturesque views of the city. The hotel staff is bilingual, and is more than happy to recommend the best choices at the Lobby Bar, Great Room deli, and the Condimento Restaurant's delicious Mexican buffet.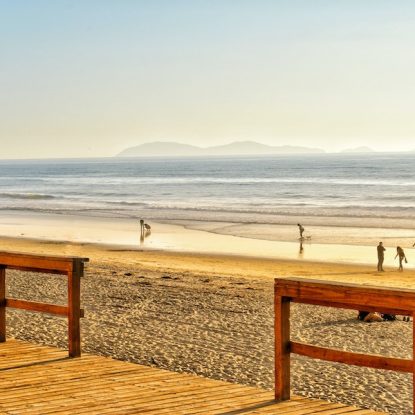 The city of Tijuana is known for many great relaxing activities. The Campestre Club golf course is just .1 miles from the Marriott. Other popular things to do in the area include taking wine tours, enjoying beautiful beaches, visiting the Tijuana Cultural Center, playing at the Casino Caliente, and observing Aztec monuments.
"The Best Decision I've Ever Made."
A GASTRIC SLEEVE SUCCESS STORY
Four years after her gastric sleeve surgery, Kim has lost over 120 pounds. She recommends ALO Bariatrics to all of her friends who are struggling with weight loss. She says that her experience at ALO Bariatrics was the best healthcare experience she ever had.
Reasons to Visit ALO Bariatrics for Your Gastric Sleeve
Our certified bariatric surgeons are renowned researchers and contributors to the field of bariatric surgery. Patients trust us with their care, and each year many patients visit our practice for revision surgery because they are confident that our bariatric surgeons can provide better surgical care than previous doctors.
ALO Bariatrics is a modern and professional bariatric surgery practice. We only operate at accredited medical facilities throughout Tijuana, Mexico. Our hospitals are equipped with high-end tools and luxurious amenities to make your stay as comfortable as possible.
Since 2005, Dr. Lopez and Dr. Ramirez have performed thousands of bariatric surgeries and have helped thousands of patients achieve long-term weight loss with gastric sleeve. Because of its many benefits, sleeve gastrectomy is the most commonly performed weight loss procedure at ALO Bariatrics.
Single-incision procedures are fairly new to the field of bariatric surgery, but our surgeons have already performed more than 800 procedures using this technique. Both Dr. Lopez and Dr. Ramirez are certified laparoscopic surgery providers who have received advanced training in this field.
A Gastric Sleeve Patient Shares Her Story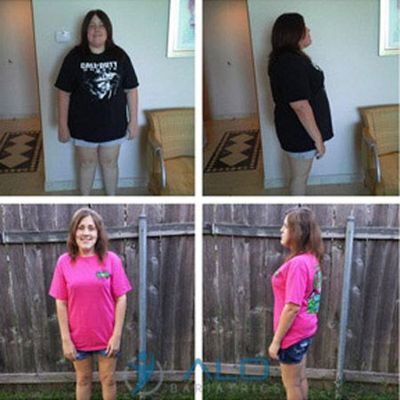 I had my gastric sleeve May 5, 2014. I've lost 95 pounds and couldn't be happier! Thank you so much, Dr. López! You're an amazing doctor! I had a great experience and am so glad I chose you!

– Jessica Jalovec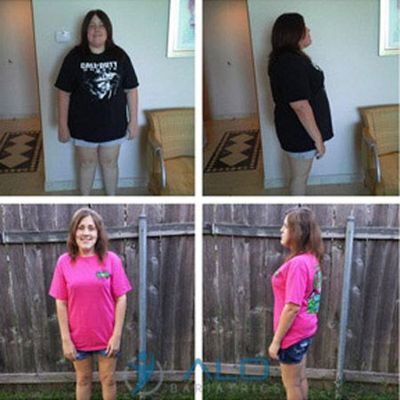 Real patients, real results
REQUEST A FREE CONSULTATION
If you are curious about gastric sleeve surgery in Mexico, it's time to take the first step. Call ALO Bariatrics today to discuss your weight loss goals and begin your journey towards a healthier life.
Are You Worried About the Cost of Surgery?
IT'S TIME TO CONSIDER MEDICAL TOURISM
Because of the high cost of bariatric surgery in the United States and Canada, more and more patients are choosing to travel to Mexico for weight loss procedures. When you work with ALO Bariatrics in Tijuana, you can receive the same level of care provided in your home country, but for thousands of dollars less. Our team goes above and beyond to make medical tourism as easy as possible for our patients:
We will arrange your lodging, as well as a chauffeur service to handle all of your transportation between the airport, the hotel, and the hospital. All of this is included in your medical tourism package.
Bilingual team members will be available at all times to answer your questions and to make sure that you and your companions are as comfortable as possible.
For added peace of mind, we offer medical tourism insurance through Global Protective Solutions℠.
If you have any questions about traveling to Mexico for bariatric surgery, call (844) 461-2831.
How Much Does Gastric Sleeve Surgery Cost in Mexico?
One of the benefits of medical tourism is that even complex procedures can be affordable on any budget. Additionally, gastric sleeve surgery is more affordable than some of the other procedures offered at our Tijuana location, including gastric banding and gastric bypass. 
| | | | | |
| --- | --- | --- | --- | --- |
| Location | Gastric Sleeve | Gastric Bypass | Duodenal Switch | LAP-BAND |
| Tijuana | $4,700 | $6,300 | $7,300 | $5,700 |
The flat fees in the table above include the cost of:
Surgery
Hospital stay
Lodging
Chauffeur service
Lab exams
X-rays
Pre-operation prep
Certified professional nurse care
Surgeon and anesthesiologist fees
Medical material
Prescription drugs
Medical evaluation with a specialist
Nutritional assessment and meal plan by a certified nutrition specialist
Surgery
Hospital stay
Lodging
Chauffeur service
Lab exams
X-rays
Pre-operation prep
Certified professional nurse care
Surgeon and anesthesiologist fees
Medical material
Prescription drugs
Medical evaluation with a specialist
Nutritional assessment and meal plan by a certified nutrition specialist
How Our Costs Compare to American Averages
According to the National Institutes of Health, bariatric surgery in the U.S. can cost $25,000 or more. Prices can be higher depending on where you live, surgeon fees, and the type of surgery you choose. We are straightforward about our prices, which are just a fraction of the average American cost.
The Hidden Costs of Obesity
While the price of gastric sleeve surgery is a legitimate concern among patients, the cost of not acting could be detrimental to your career and your mental health. The American Psychological Association (APA) notes that over 40% of American adults have experienced weight stigma at some point in their life. This means that they are treated or viewed differently than others of different body types.
The Added Costs of Health Care
The STOP Obesity Alliance notes that being obese, on average, costs a woman nearly $5,000 annually, and a man over $2,500.
The International Journal of Environmental Research and Public Health found that obese and overweight women earn 9% lower monthly wages than standard-weight women.
The Toll on Your Well-Being
The APA also pointed out that experiencing weight stigma, also known as sizeism, increases a person's risk of mental health problems.
Invest in Yourself and Your Health
REQUEST A CONSULTATION FOR LIFE-CHANGING SURGERY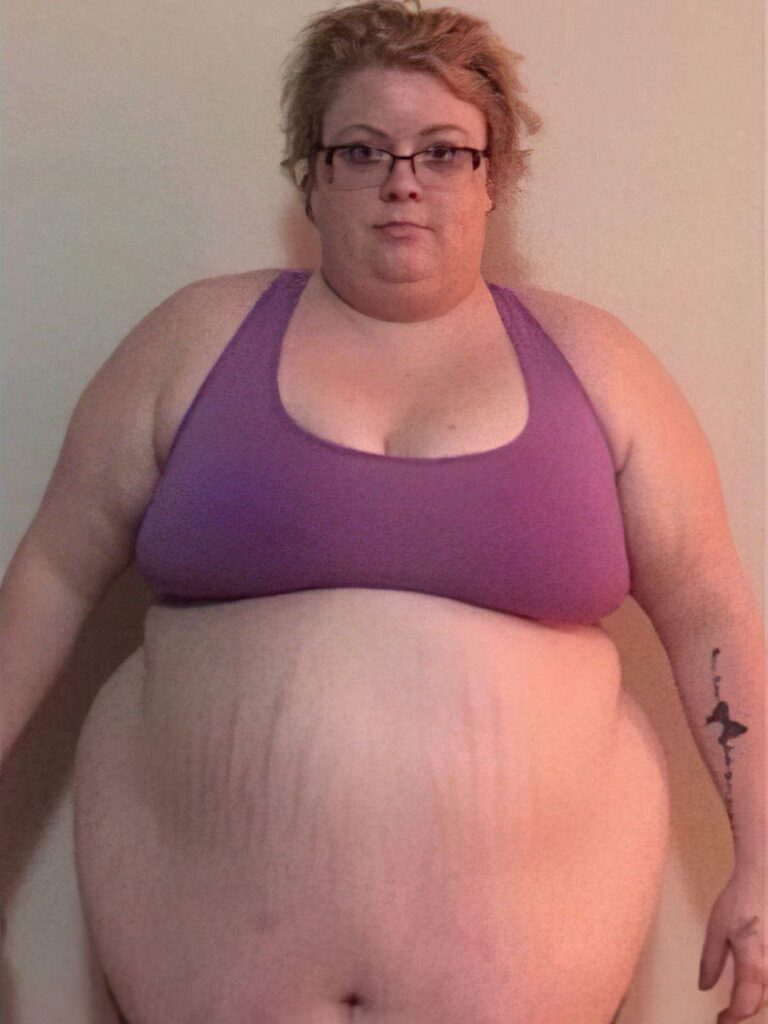 Before Weight Loss Surgery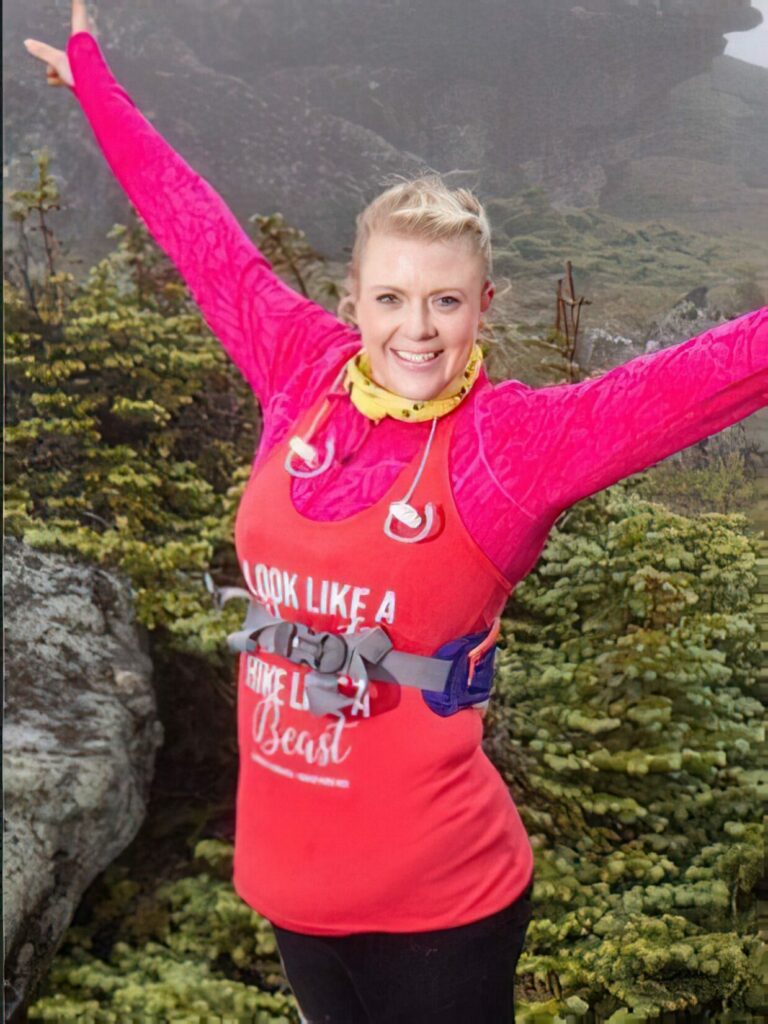 After Weight Loss Surgery
The doctors of ALO Bariatrics have helped thousands of patients achieve healthy weight loss through bariatric surgery. We take pride in assisting patients who want to make an investment in their future happiness and well-being. Our doctors have trained at top international medical institutions, including some facilities in America. By coming to Tijuana for gastric sleeve surgery, you can get the care you need while saving money.

We would be honored to help you in your successful weight loss journey. Get started by giving us a call.
Rave Reviews for Every Aspect of Our Treatment

William Providence
2022
I'm from Denver, Colorado I had gastric sleeve surgery with ALO Bariatrics in Guadalajara, Mexico and it went so smoothly. The facilities they use are state of the art, they have the proper equipment, team and care just like here in the United States. Everything is top notch. The surgeons are top notch. The facility is top notch. The equipment is top notch. The service is top notch. They eliminate all the risks of doing surgery in Mexico and treat you so well.

Jim Kirkbride
2021
I highly recommend the team at ALO Bariatrics. Sandra is amazing at providing details and ensuring you are their #1 priority. Dr Lopez is a gifted surgeon with vast experience in bariatric procedures. The Tijuana facilities are clean, safe, well staffed and dedicated to protecting the patients' dignity and care. If you are thinking about weight loss surgery as a health or cosmetic option, ALO should be your choice.
What to Expect During the Gastric Sleeve Procedure
Gastric sleeve surgery is performed laparoscopically, meaning that it is performed through several small incisions rather than one large opening. During the surgery, our doctors will create five small incisions to access the abdominal area.
Creating the Vertical Sleeve
Our bariatric surgeons will then insert laparoscopic tools through these incisions, projecting images of the inside of your abdomen onto a screen while they perform the procedure. During the surgery, we will staple the stomach into two parts and reduce its size by 70 to 80 percent. The remaining stomach pouch resembles the shape of a banana and can hold approximately 150 mL of food.
Ensuring the Success of Your Surgery
Before our bariatric surgeons close your incisions, we will seal the stomach with a technique called "staple line reinforcement." We will use highly resistant, non-absorbable sutures to reinforce the staple line. This step reduces the risk of leaks by up to 99 percent. Finally, we will perform three separate tests to ensure that there are no leaks.
SINGLE-INCISION LAPAROSCOPIC SURGERY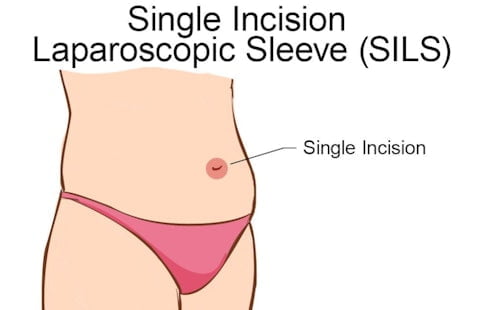 While traditional gastric sleeve methods require around five small incisions in the abdomen, the revolutionary SILS (single-incision laparoscopic surgery) approach only requires a single incision in the belly button. Drs. Lopez and Ramirez are qualified to perform this advanced surgical technique at our partner hospitals in Tijuana, Mexico.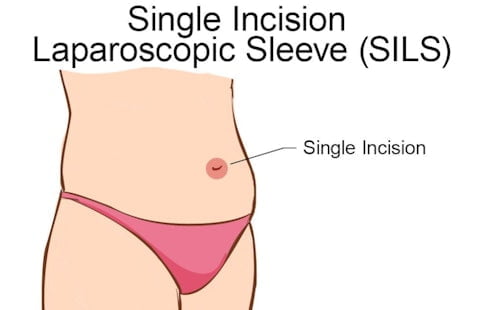 The Benefits of Single-Incision Laparoscopic Sleeve Surgery
The incision is placed in the belly button, where it will be virtually invisible no matter what clothing you wear, allowing you to enjoy the results of your procedure without worrying about visible scars.
Patients who undergo SILS surgery will only have to care for one small incision instead of five, which can reduce post-operative discomfort and expedite your recovery time.
View Patient Testimonials on the Benefits of SILS
These patients chose single-incision sleeve surgery because they didn't want visible scars and because they wanted quicker recoveries. Their surgeries went smoothly and they are very happy with their outcomes, which resulted in long-lasting changes in body mass index and overall health.
To find out if you qualify for single-incision gastric sleeve surgery, contact ALO Bariatrics and schedule a consultation. In general, single-incision surgery is limited to first-time weight loss surgery patients who are undergoing gastric sleeve surgery and have a BMI under 40.
Talk to Our Compassionate Team
Our doctors treat each patient like a person, not a problem. We are here to help you achieve the weight loss you deserve. So many patients have come to us, unable to lose debilitating weight, and we have made their health goals a reality. Finding out if you qualify is completely free. Reach out to our Tijuana team over the phone to see if ALO Bariatrics is right for you.
Patients Leave Us With No Regrets

Karley Harris
2021
We were fortunate enough to book bariatric gastric sleeve surgery with Alo. Sandra was an excellent coordinator and she really cares about the patients. The whole staff was top notch. Do yourself a favor and don't look anywhere else if you need bariatric surgery.

LaToya Stamper
2021
I would recommend this practice go anyone seeking bariatric surgery... I felt safe the entire time and the hotel staff at the Marriott provided the best service Ive ever had at a hotel. No regrets here.
Life After Your Gastric Sleeve
After a sleeve gastrectomy, most patients spend one to two nights in the hospital. Before discharging you from the hospital, we will conduct a follow-up exam to ensure that you are able to tolerate fluids. Another benefit of medical tourism is that you can vacation in Mexico and enjoy your recovery in a world-renowned tourist destination like Tijuana before returning home to resume your new healthy life.
What are the risks of gastric sleeve surgery?
Like any surgical procedure, there are risks of infection, excessive bleeding, or adverse reactions to anesthesia. Our surgeons have successfully performed thousands of gastric sleeve procedures, and they only operate in state-of-the-art hospitals, so you can trust that these risks are as minimal as possible. Some risks unique to the gastric sleeve include stomach leaking, an increased chance of hernias, and an increased risk for gastroesophageal reflux disease. Our doctors are skilled in advanced methods that greatly mitigate these risks.
Is gastric sleeve reversible?
Gastric sleeve surgery involves a permanent alteration of the stomach and is not reversible. Patients must be ready to commit to a healthier lifestyle for the rest of their lives in order to qualify for sleeve gastrectomy.
What can I eat after a gastric sleeve?
In the initial days and weeks after surgery, you will need to follow a prescribed post-op diet that starts with clear liquids and gradually progresses to solid foods. Patients typically can begin eating regular meals after about four weeks. For the best weight loss results, you will need to maintain a healthy, nutrient-rich diet and avoid empty calories. During your stay with ALO Bariatrics, you will consult with a certified nutrition specialist who will help you design a meal plan.
Other Weight Loss Surgeries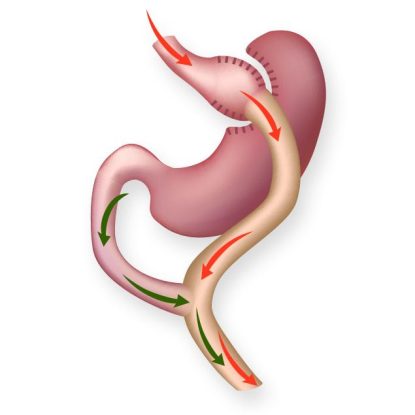 Gastric bypass surgery is more complex than sleeve gastrectomy. During gastric bypass surgery, the stomach is reduced and the intestines are rearranged to limit the body's ability to absorb nutrients. Our Tijuana doctors perform laparoscopic gastric bypasses that provide significant, long-lasting weight loss results.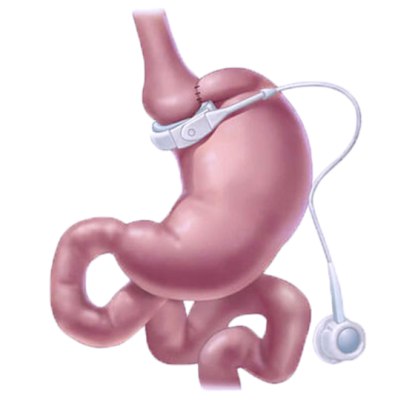 During LAP-BAND surgery, our doctors will laparoscopically place a silicone ring around your stomach. They will then fill the ring with fluid to cause it to tighten around the stomach, reducing the stomach's capacity. LAP-BAND surgery is somewhat unique because it is relatively easy to adjust or reverse.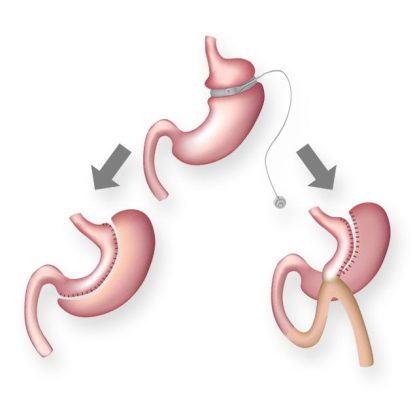 Revision Bariatric Surgery
In some situations, patients who have already undergone bariatric surgery experience a plateau in their weight loss or weight regain. In these circumstances, Dr. Lopez can perform revision surgery to encourage further weight loss. A common revision is to turn a gastric sleeve into a gastric bypass.
Grateful for Our Great Reviews

nickypeej
2020
Wow. Exceeded my expectations after doing over a year and a half of research into gastric sleeve. I had a friend recommend ALÔ and it was the best decision of my life! The care, attention, treatment, communication, everything was top notch. Any misconceptions or doubts you have about Mexico, Tijuana or "foreign medical care" doesn't apply here.

Jennifer Tawdi
2021
I received the best care at ALO Bariatrics TJ location, the whole medical staff amazing! I promise you will not regret allowing them to give you the tool to kick obesity out of your life. I'm forever grateful.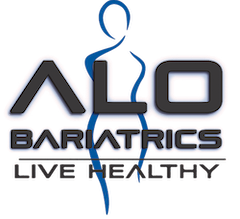 The International Federation for the Surgery of Obesity and Metabolic Disorders (IFSO)
The American Society for Metabolic and Bariatric Surgery (ASMBS)
The American Association for Accreditation of Ambulatory Surgery Facilities (AAAASF)
The Federal Commission for Protection against Sanitary Risk (COFEPRIS)
The Fellow American College of Surgeons (FACS)
For more information on ALO Bariatrics, or to begin your weight loss journey, we encourage you to call (844) 461-2831.
We have 3 locations Mexico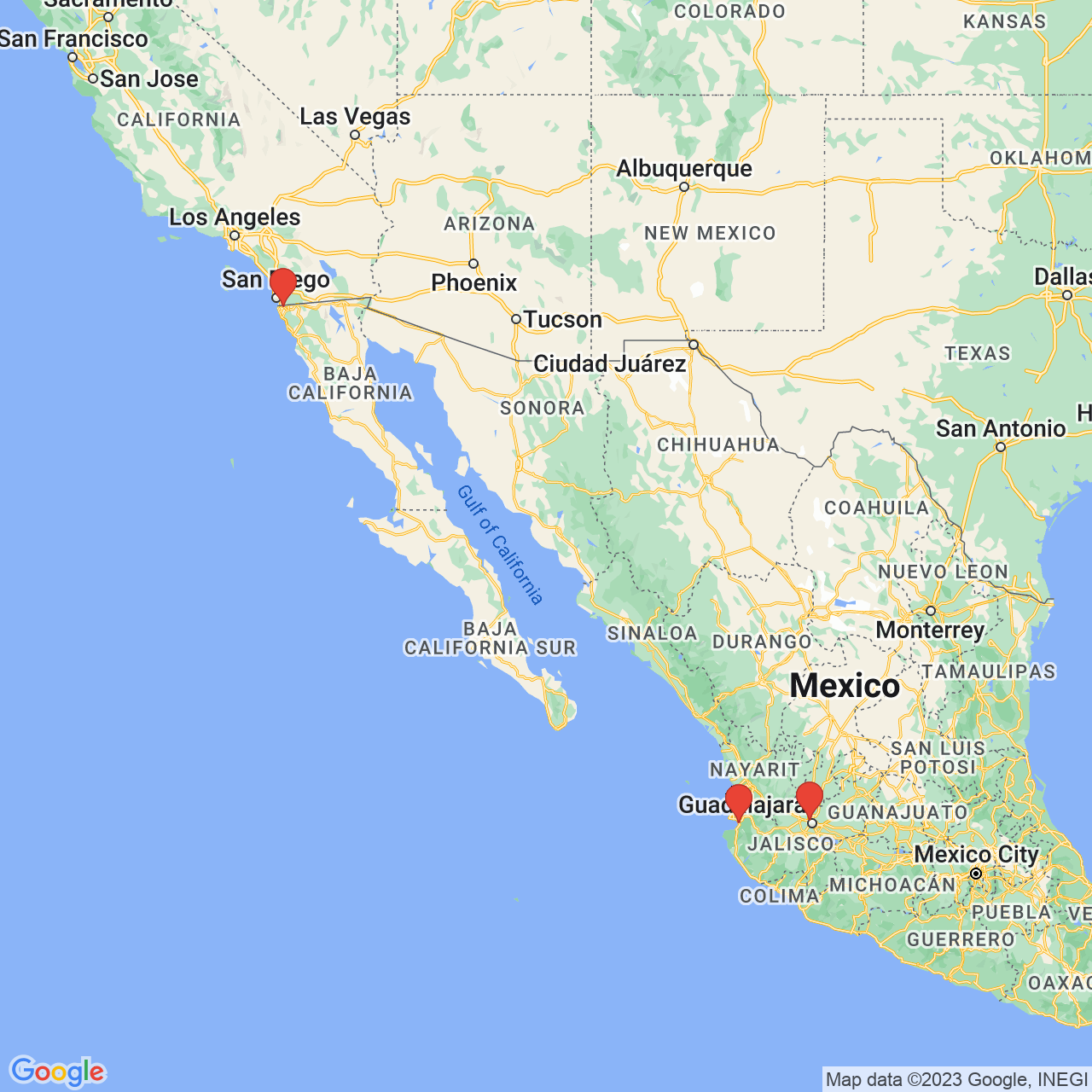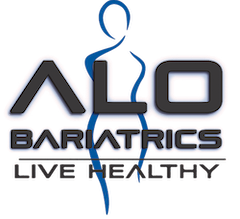 The International Federation for the Surgery of Obesity and Metabolic Disorders (IFSO)
The American Society for Metabolic and Bariatric Surgery (ASMBS)
The American Association for Accreditation of Ambulatory Surgery Facilities (AAAASF)
The Federal Commission for Protection against Sanitary Risk (COFEPRIS)
The Fellow American College of Surgeons (FACS)
For more information on ALO Bariatrics, or to begin your weight loss journey, we encourage you to call (844) 461-2831.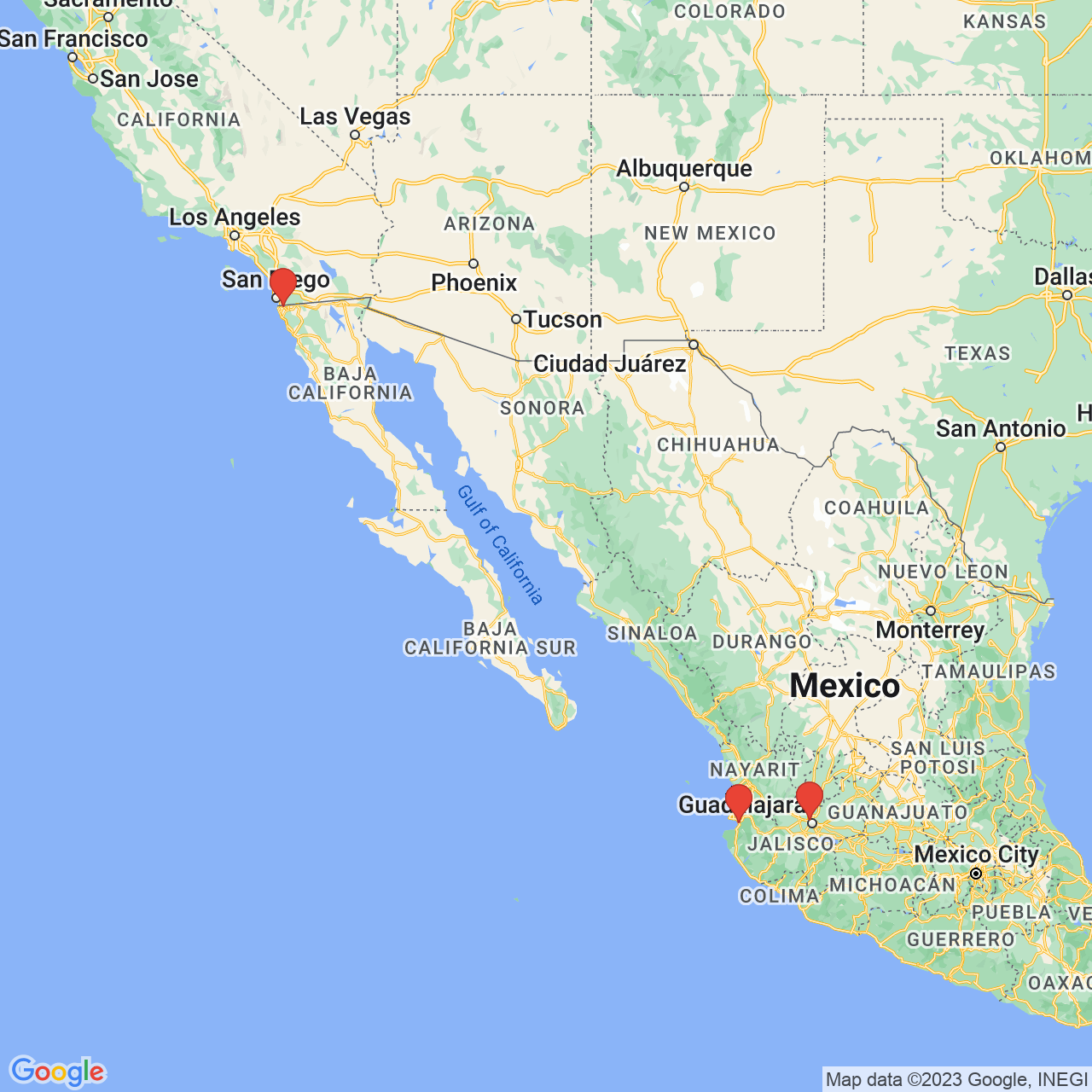 We have 3 locations Mexico